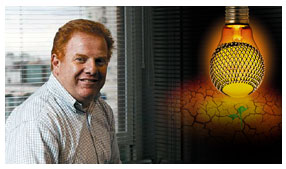 By Sam Weyrauch, Endeavor summer intern

On the western coast of Africa lies Nigeria, its most populous country. It has the continent's second largest economy, yet faces many challenges, and has one of the highest population densities. It also includes an eager and budding horde of entrepreneurs ready to take the next step with their companies.
Endeavor Entrepreneur Luis Alexandre Chicani traveled across the Atlantic from Brazil to Nigeria recently to participate in the entrepreneurship-focused Platform 10.0, a biannual Cultural Innovation Conference. After Endeavor's Allen Taylor heard from Silicon Valley friend Sarah Lacy about Pastor 'Poju Oyemade, who runs the event, he encouraged Chicani to attend. Lacy, the author of Brilliant, Crazy, Cocky, a book promoting worldwide entrepreneurism, had spoken at the event last spring.
Chicani spoke to an audience group of over 7,500 people—as well as thousands more online and on TV—at The Platform before presenting at a smaller Q&A workshop for about 2,000 Nigerians alongside speakers from the U.S., China, India, and Nigeria.
"I talked to people hungry for knowledge," he said in an interview. "I got very excited to contribute something, and decided to talk about Do's and Don'ts that drove my life as an entrepreneur in Brazil. As one of Endeavor's commitments is giving back to communities that need this kind of help, I felt very happy to participate at Platform 10.0 and of course, talked a lot about Endeavor.
Luis continued: "The idea was to tell my history with DentalCorp, BenCorp, TourisMed Brazil and Club Saúde, pointing out difficulties and achievements and always trying to make some comparison with Brazilian and Nigerian realities. I had an opportunity with 21 DentalCorp offices in different urbanized areas of Brazil, but also in the Northeast and Amazon Area where the conditions and needs were much more like those in Nigeria."
Among the countless entrepreneurs he met, Chicani highlighted two that particularly struck a chord with him. The first was Dr. Edwin Ndubuisi, who founded New Dimension to mentor young African leaders and entrepreneurs to develop their communities and to showcase positive role models to inspire the next generation, in a similar manner to Endeavor. The second was Fifehanmi Bankole, a life coach and senior strategist with Harval Nigeria Limited.
"It was really an honor to give a message about how wonderful it is to develop a culture of entrepreneurship, and that the main fuel is your dream and resilience to go, day after day, facing similar challenges and opportunities," Luis said. "I wanted to make as many people as I could excited about becoming an entrepreneur (or continuing as one) as a positive force in Nigeria."